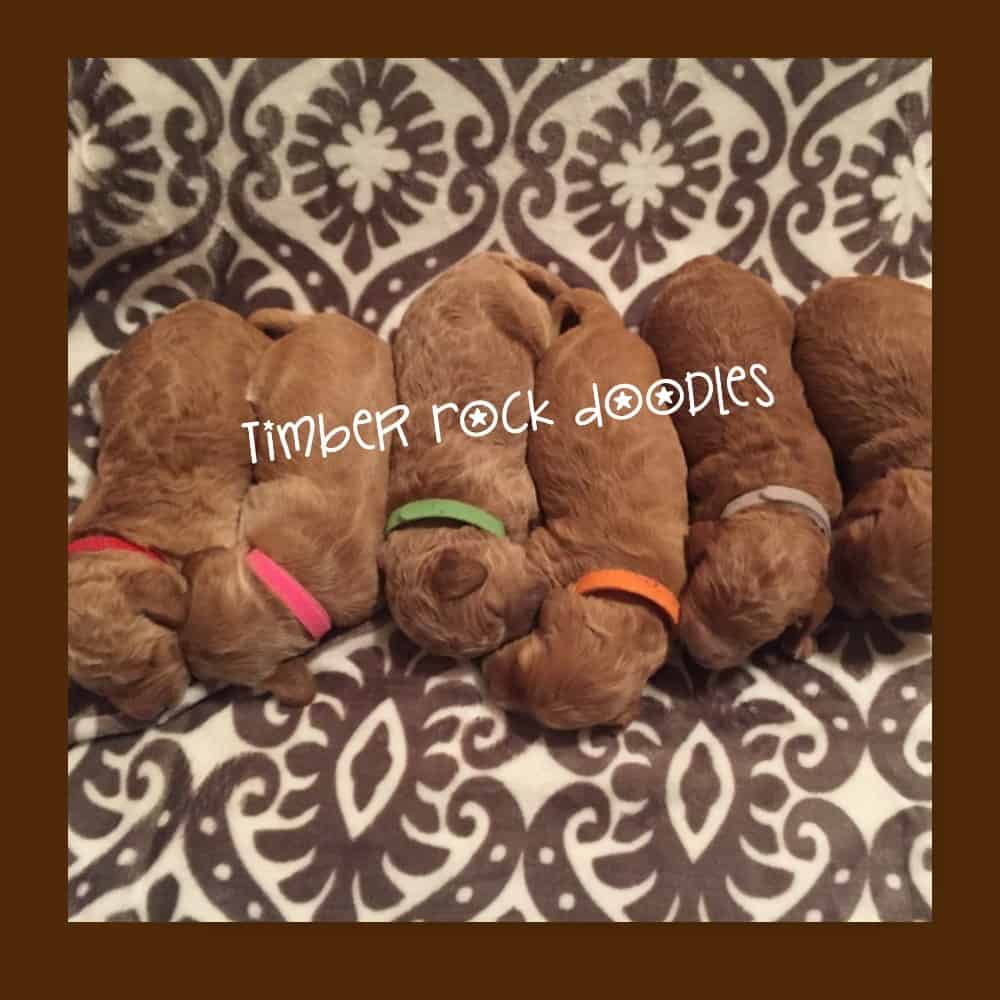 Molly's litter arrived January 9, 2017!  She delivered a healthy litter of six puppies!  She had nice easy delivery of each puppy!  We had no issues which was great for Molly, the puppies and us! Litter consisted of two girls and four boys.  We have had a busy week around here!  So fun to watch Molly with her puppies, she is a wonderful Mom:)  Pink and Orange are the females.  Blue, Red, Grey and Green are the males. They are all healthy F1B Miniature Goldendoodles.  Pink is more cream in coloring, the others all have red coloring so far!  Each has gained weight everyday which is wonderful!  They love to snuggle all together in a pile, it is adorable to watch them.
They were all vet checked on their birthday!  They also returned to the vet on Day 5 to have dewclaws removed.  They have tolerated the car rides with Molly just great!
We began ENS (Early Neurological Stimulation) and ESI (Early Scent Introduction).  ENS consists of 5 different exercises performed daily which benefit the dogs cardiovascular performance, stronger heart beats, stronger adrenal glands, they are more tolerant to stress and develop a greater resistance to disease.  With our ESI program the puppies have been introduced to the following scents….lemon, lavender, peppermint, cloves and orange.  Tonight scent will be an apple!  It is really neat to watch their little noses start sniffing and to see what type of reaction they have to each scent!  Both ENS and ESI exercises are performed on Day 3 through 16 with each puppy.
There are not words to describe what a wonderful experience this has been for our family!  It is such a blessing to have the opportunity to watch these adorable puppies grow.
Kathy & Eric