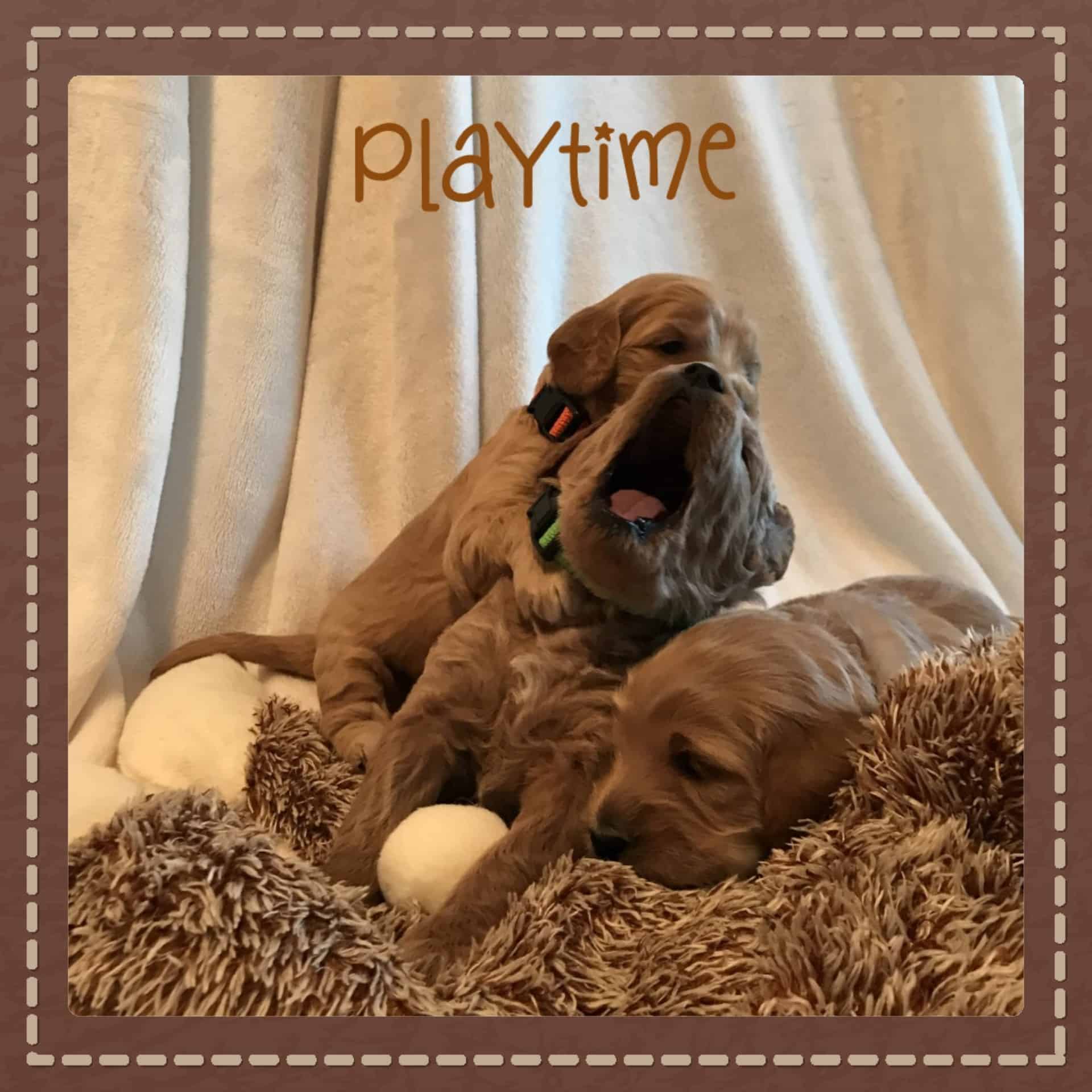 Over the past couple of weeks we have had the excitement of watching our new F1b Miniature Goldendoodles grow from newborns into active puppies!  When the puppies were born their weights ranged from 11.5 ounces to 14 ounces.  As of Day 20 the puppies weight ranges are from 3 lbs 11 ounces to 4 lbs.  It is interesting to watch how the biggest to smallest puppy chart has changed day to day.  They are all very close in weight but has been interesting to watch from day to day where they fall in order of weight. Molly our Mama has clearly been very attentive with caring for her pups making sure they are well fed and growing!
We completed ENS (Early Neurological Stimulation) exercises with each puppies from Day 3-16.   ENS consists of 5 different exercises performed daily which benefit the dogs cardiovascular performance, stronger heartbeats, stronger adrenal glands, they are more tolerant to stress and develop a greater resistance to disease.  The puppies really responded well to being handled daily for these exercises.
We also have completed ESI (Early Scent Introduction) with the puppies also from Day 3-16.  We used scents that the puppies may encounter in their Forever Homes!  Lemon, lavender, peppermint, cloves, orange, apple, coffee grounds, Vicks Vapor Rub, cinnamon, sage, banana, chamomile, our cat Jay and tomatoes.  Their were a few crinkled noses along the way but they mostly had neutral or positive responses to the scents.  It was fun to watch the noses sniffing, wet noses and licking towards the scent!
This past week have brought many milestones for each puppy!  Their eyes have opened and they are really checking out their surroundings.  They are beginning to hear their surroundings and themselves!  The funniest thing to watch is each puppy learning to squeak, growl and bark at themselves and their litter mates.  It has been a little more noisy around here.  They have also discovered how to wrestle with each other and with a few new puppy toys.  They seem to be enjoying themselves with their new found abilities.  As we speak, our little stinkers have figured out how to escape their whelping box!  It has been quite a comical day around here for sure!  We are loving every moment!
As the puppies are growing at quite a fast pace, we will be busier and busier everyday.  They will be preparing for weaning soon, early introduction to potty training, increased physical abilities and getting introduced to lots of different types of playtime.
For the past 2.5 years as we began to plan this venture of bringing families the joy of a Goldendoodle companion, we had not realized the amount of joy our family would experience having these puppies in our home…growing, learning, cuddling, playing and becoming lifelong companions.  We look forward to our Forever Home Families and watching our little puppies grow up for many years to come.
If you know of a family looking for a happy, high-quality, healthy and exceptional hybrid Miniature Goldendoodle, please share with them our website and contact information.  We would love the opportunity to share what we have to offer!
Eric & Kathy